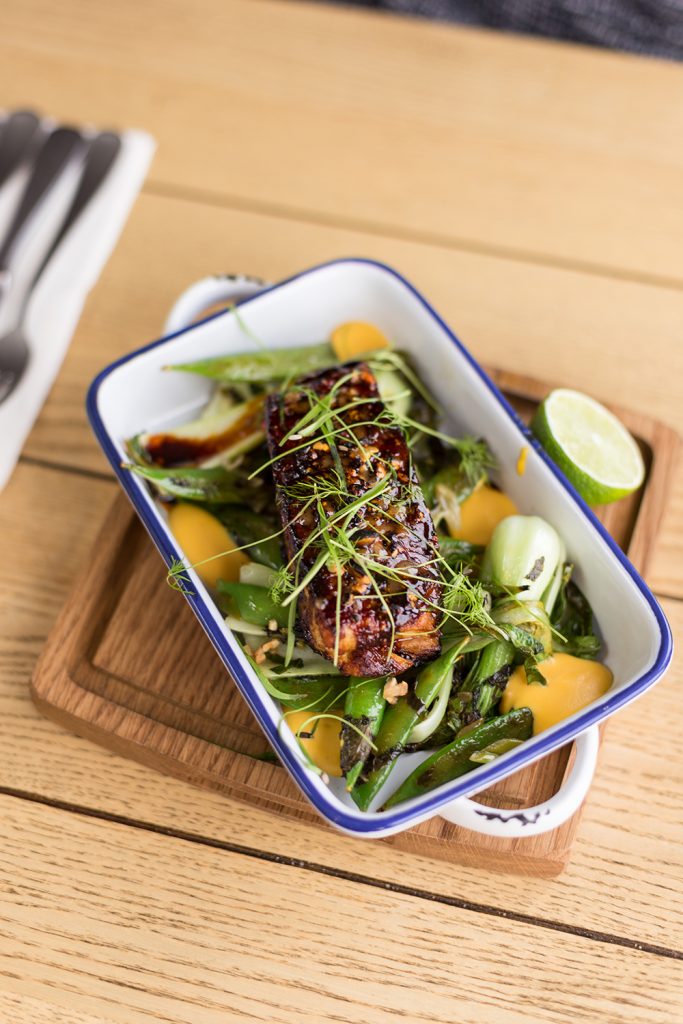 Peanut brittle is a real childhood favourite and this delicious recipe for Korean pork belly from Buttermilk and chef James Strawbridge is a new twist that everyone will enjoy on cold Autumn evenings. It makes use of one of the tastiest and most economical cuts of pork and we always buy local at Lobbs Farm Shop. Wonderful Cornish cabbage, thinly sliced and tossed in a wok with soy sauce and sesame seeds is also a tasty and healthy side dish.
Peanut brittle is a versatile ingredient to play with in the kitchen. In this dish James used it to add sweetness to a Korean style BBQ sauce and finish the pork belly with some crackling texture. The spring greens and fresh mint work well with a sweet butternut squash mayo and the sticky, spicy and sweet pork. We would also recommend trying this recipe with confit duck or brushed onto chicken wings.
Ingredients
For the Pork:
600g Higher Welfare Pork Belly
2 tbsp Cornish Honey
3 tbsp Rice Wine Vinegar or Mirin
1 tbsp sliced Root Ginger
1 tsp Fennel Seeds
50g Peanut Brittle (available from Buttermilk Kitchen)
5 tbsp Soy Sauce
1 tbsp Gochujang
For the Hot Salad:
75g Sugar Snap Peas
2 Spring Onions
100g Pak Choi or Chinese Cabbage
1 Garlic Clove – nely sliced
Juice of 1/2 Lime
25g Peanut Brittle
1 Red Chilli
1 tbsp chopped fresh Mint
Pinch of smoked Cornish Seasalt
Method:
Prepare the pork belly by removing the rind and marinading the meat with soy sauce, gochujang, honey, root ginger, fennel seeds, and rice vinegar. Leave for at least 4 hours or overnight in a sealed container.
Preheat your oven to 170 ̊C and place the pork in a roasting tin covered with foil, adding a cup of water and roast for 2-3 hours or until tender. Remove your pork from the oven and increase to 200 ̊C.
Then blitz your Peanut Brittle and add to the sauce in a small saucepan, reducing until sticky. Brush the Peanut Brittle sauce back over the pork and roast uncovered for another 20 minutes until caramelised. 4. For the hot salad simply toss the ingredients together in a bowl and cook in hot sesame oil using a wok or large frying pan. Serve the sliced pork belly on a butternut puree and garnish with your salad and more Peanut Brittle crumb.
If you have enjoyed this blog, please follow us on Instagram or Facebook to get daily updates on life in Cornwall and notices of when the next blog will appear.