It's hard not to love the rugged landscape and dramatic coastline that make up Cornwall. With beautiful rural views from our workshop and country walks right on our doorstep, we feel privileged to live and work here and are constantly inspired by our surroundings, which are reflected in the products we create through to our eco responsibilities for preserving and protecting this special place.
We are continually looking at how sustainable and ethical we trade as a business and nothing can be more important than "doing our bit" to help prevent further damage to the planet.
Here are a few simple switches you can make to your skincare routine which will also be kind to the environment.
ORGANIC
Look out for the organic certification logos for assurance that you are purchasing an organic product. With organic certification being the only way to ensure that products are as pure and natural as possible, we work hard in sourcing the highest quality, socially just and ecologically responsible suppliers of ingredients for our skincare range.
Being certified organic, Trevarno can offer the reassurance that our products contain:
NO parabens or phthalates
NO synthetic colours or fragrances
NO genetically modified ingredients
AND are NOT tested on animals.
PLASTIC IS NOT FANTASTIC
Public awareness is ever-growing over the amount of unnecessary plastic waste dumped in our seas and on our beaches, with a devastating effect on marine life.
It's suggested that more than 5 trillion pieces of plastic are floating around in our oceans, much of which is in the form of tiny particles that in turn are being consumed by fish and will eventually travel up the food chain – causing potentially serious consequences for the health of wildlife and humans alike.
Living and working by the coast we see this first hand at regular beach cleans so this is really important to us. We can all play our part and like many other brands who are making changes, here at Organic Trevarno we are proud to say that we use and have always used recyclable glass jars and bottles for our certified organic skincare.
We've also looked at ways to avoid plastic but still give our customers the convenience and safety it provides.
Trevarno's rosemary shampoo is an effective natural hair & body shampoo in a bar. Rosemary and coconut oils are blended to create a deeply conditioning, creamy lather for soft, clean, healthy hair. No need for plastic shampoo bottles and perfect for travelling too.
LONG LASTING AND SUPER RICH
Waste is a seriously important issue right now. From cutting back on the amount or product we use to minimising the amount of packaging we're producing. Using high-performance, long-lasting skincare is an essential and exciting step to reduce waste.
Made entirely from natural ingredients, this moisturising lip treat contains olive oil infused with comfrey and calendula to help heal and soothe chapped lips, blended together with beeswax to nourish and soften. A little really does go a long way.
NO MICRO BEADS HERE
Micro-beads: "extremely small pieces of plastic, used especially in cleansing products as exfoliating agents" – would you want micro-beads to be the exfoliant used on your skin?
Trevarno use ONLY naturally sourced,  ORGANIC cane sugar and cut camomile herb as the exfoliant in their facial and body scrubs.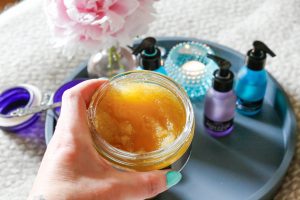 INNOCENT INGREDIENTS
Created from plants, flowers, fruits and herbs,  sourced for their therapeutic as well as cosmetic benefits, Trevarno's healthy skincare range contains no chemicals or artificial ingredients – just skin loving and beauty boosting nutrients.


Trevarno use organic marigold petals in their CALENDULA SOAP and olive oil infused with rose buds as well as crushed rosehip shells in their ROSE, ORANGE & PATCHOULI SOAP.
VEGAN FRIENDLY
Eating a plant-based diet can help cut greenhouse gas emissions, reduce pollution, prevent deforestation and save wild animals from extinction. Extend veganism beyond your diet and become part of a booming beauty niche.
Here are a couple of our vegan-friendly Organic Trevarno favourites
We hope this has inspired you to make some changes to help protect our planet.
For more information please visit our website: www.trevarnoskincare.co.uk